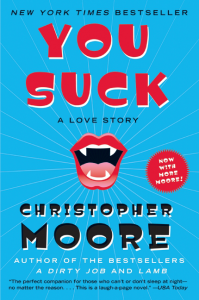 Buy the Book
Amazon.com | Barnes & Noble
IndieBound
Nineteen-year old C. Thomas Flood – Tommy, to his friends – has a problem.
He slept with his incredibly hot girlfriend, Jody.
That's a problem?
Well, Jody is a vampire. And now, Tommy is too.
Following his unexpected initiation into San Francisco's most alternative lifestyle, Tommy sees that an undead existence requires some speedy adaptation.
First, his new improved vampire senses make him quickly realize how bad most people smell. (Make that all people.)
Second – it'll just make sense to keep a local wino handy for late-night snacks (you need to keep an eye on those blood sugar levels).
Third – it's now easy to talk a young Goth girl into working as your personal gofer and aide-de-camp as long as she can tell her friends she's a "Tortured Victim of the Daylight Dwellers," so darned full of foreboding and dread that all skeezy mortals will just, OMG, scurry before her dazzling darkness.
But, while Tommy's learning all this, he must avoid the police; as well as the centuries-old vampire who started the trouble in the first place by turning Jody, and who now wants to pick up where he left off.
And, he must also steer clear of his former pals, a herd of Beta Males who've given up frozen turkey bowling in order to spend more time (and all their money) on a Las Vegas call girl who dyed herself blue in hopes of tapping a niche market — realizing too late that the market tapped consists of frozen turkey bowlers who spend way too much time thinking about Smurfs.
Chris Moore's new novel, You Suck, A Love Story has all this and more, including familiar faces from his 2006 New York Times bestseller, A Dirty Job. And if you haven't yet sunk your teeth into it – Tommy and Jody first appear in his novel, Bloodsucking Fiends.
So if you're looking for San Francisco scenery, hot vampire sex (similar to hot monkey sex, but hotter), giant shaven cats, the Cheddar Princess of Fond du Lac, and the Fighting Beatniks of Allen Ginsberg High School — four words:
YOU SUCK.
It doesn't.
---
Praise for You Suck:
"[A] cheerfully perverse, gut-busting tale . . . Moore writes with the jittery energy of a brilliant, charming class clown, mixing sex and gore and a potty mouth with a goofy-sweet sensibility to deliver laughs on nearly every page."
— Publishers Weekly (starred review)
"Moore handles [the] goofier-than-thou plot adroitly . . . Think of a collaboration among Anne Rice, S.J. Perelman and Pedro Almodóvar . In other words, Moore in the usual vein (jugular, that is)."
— Kirkus Reviews
"[A] hilarious mockery of the pursuit of the appetites."
—Booklist
ISBN: 0060590297
Published by HarperCollins
hardcover | 21.95