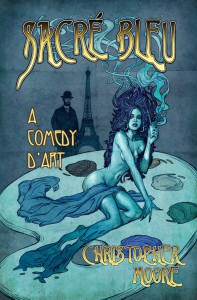 Buy the Book
Amazon.com | Barnes & Noble
IndieBound
On Sale April 3, 2012!
Now, in his latest masterpiece, Sacré Bleu, the immortal Moore takes on the Great French Masters. A magnificent "Comedy d'Art" from the author of Lamb, Fool, and Bite Me, Moore's Sacré Bleu is part mystery, part history (sort of), part love story, and wholly hilarious as it follows a young baker-painter as he joins the dapper Henri Toulouse-Lautrec on a quest to unravel the mystery behind the supposed "suicide" of Vincent van Gogh.
Early Reviews
KIRKUS REVIEWS
An aspiring painter and unabashed romantic joins the greatest artists of the age in chasing his muse across fin de siècle–era France.
There are really two ages and two operating modes for hugely popular comedic writer Moore (The Griff, 2011, etc.). There's the deceptively easy humor of his early California novels, which only gets sharper and funnier in his San Francisco–based vampire novels. But from time to time, Moore gets obsessed with a particular subject, lending a richer layer to his peculiar brand of irreverent humor—see Lamb (2003), Fluke (2003) and Fool (2009) for examples. Here, the author gets art deeply under his fingernails for a wryly madcap and sometimes touching romp through the late 19th century. The story surrounds the mysterious suicide of Vincent van Gogh, who famously shot himself in a French wheat field only to walk a mile to a doctor's house. The mystery, which is slowly but cleverly revealed through the course of the book, is blue: specifically the exclusive ultramarine pigment that accents pictures created by the likes of Michelangelo and van Gogh. To find the origin of the hue, Moore brings on Lucien Lessard, a baker, aspiring artist and lover of Juliette, the brunette beauty who breaks his heart. After van Gogh's death, Lucien joins up with the diminutive force of nature Henri Toulouse-Lautrec to track down the inspiration behind the Sacré Bleu. In the shadows, lurking for centuries, is a perverse paint dealer dubbed The Colorman, who tempts the world's great artists with his unique hues and a mysterious female companion who brings revelation—and often syphilis (it is Moore, after all). Into the palette, Moore throws a dizzying array of characters, all expertly portrayed, from the oft-drunk "little gentleman" to a host of artists including Édouard Manet, Paul Gauguin, Georges Seurat, Claude Monet, Camille Pissarro and Pierre-Auguste Renoir.
Moore's humor is, as ever, sweetly juvenile, but his arty comedy also captures the courage and rebellion of the Impressionists with an exultant joie de vivre.
Booklist
Moore drops his readers into the strange world of nineteenth-century France, where the line between past and present, real and surreal, shifts with a mere brushstroke. A baker and aspiring artist, protagonist Lucien Lessard grew up surrounded by Impressionist painters, all of whom seem to have fallen under the magical spell of a particular shade of blue. Van Gogh's death and posthumous warning of a dangerous villain, the Colorman, sets Lessard and his friend, Henri Toulouse-Lautrec, off on a journey to discover the power behind the Colorman's blue paint. Entwined in their journey is the beautiful but mysterious Juliette. Mingling comedy and mystery, Moore crafts an intricate story that teases the reader with numerous twists and bawdy humor. While Lessard is fictional, many of the characters are based on historical figures, and their use of modern slang can be jarring. Toulouse-Lautrec emerges vibrantly, but some of the other painters struggle to come to life. Still, this is an imaginative and amusing look at the Impressionist era, and Moore's prose is fresh and engaging.
— Eve Gaus
LIBRARY JOURNAL
Moore (Fool; You Suck) set out to write a book about the color blue. What he ended up with is a surprisingly complex novel full of love, death, art, and mystery. When baker–turned–aspiring artist Lucien Lessard, whose father was friends with some of the preeminent French artists of the late 19th century, receives a special tube of vibrant blue paint from the mysterious Juliette, his amateurish painting becomes masterly and his life becomes a mess. Obsessed with painting and loving Juliette, Lucien must discover the mystery of the blue paint, the origins of Juliette, and the identity of her near-constant companion, the frighteningly sinister Colorman who haunted other artists like Van Gogh, Monet, Pissarro, and Cézanne. In the end, the true question for Lucien is, "At what price art?" VERDICT Don't let Moore's quirky characters and bawdy language fool you. His writing has depth, and his peculiar take on the impressionists will reel you in. One part art history (with images of masterpieces interspersed with the narrative), one part paranormal mystery, and one part love story, this is a worthy read. Considering the large marketing push and Moore's rabid fan base, expect demand.
ISBN-13: 978-0061779749
Large Print: 978-0062088611
E-book: B005UD1GQY
Published by William Morrow
hardcover | 26.99