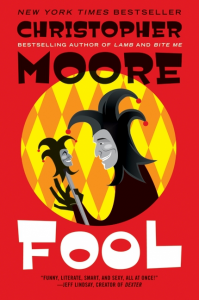 Buy the Book
Amazon.com | Barnes & Noble
Fool on CD | IndieBound
A man of infinite jest, Pocket has been Lear's cherished fool for years, from the time the king's grown daughters—selfish, scheming Goneril, sadistic (but erotic-fantasy-grade-hot) Regan, and sweet, loyal Cordelia—were mere girls. So naturally Pocket is at his brainless, elderly liege's side when Lear—at the insidious urging of Edmund, the bastard (in every way imaginable) son of the Earl of Gloucester—demands that his kids swear their undying love and devotion before a collection of assembled guests. Of course Goneril and Regan are only too happy to brownnose Dad. But Cordelia believes that her father's request is kind of . . . well . . . stupid, and her blunt honesty ends up costing her her rightful share of the kingdom and earns her a banishment to boot.
Well, now the bangers and mash have really hit the fan. The whole damn country's about to go to hell in a handbasket because of a stubborn old fart's wounded pride. And the only person who can possibly make things right . . . is Pocket, a small and slight clown with a biting sense of humor. He's already managed to sidestep catastrophe (and the vengeful blades of many an offended nobleman) on numerous occasions, using his razor-sharp mind, rapier wit . . . and the equally well-honed daggers he keeps conveniently hidden behind his back. Now he's going to have to do some very fancy maneuvering—cast some spells, incite a few assassinations, start a war or two (the usual stuff)—to get Cordelia back into Daddy Lear's good graces, to derail the fiendish power plays of Cordelia's twisted sisters, to rescue his gigantic, gigantically dim, and always randy friend and apprentice fool, Drool, from repeated beatings . . . and to shag every lusciously shaggable wench who's amenable to shagging along the way.
Pocket may be a fool . . . but he's definitely not an idiot.
Here's the Cliff Notes you wished you'd had for King Lear—the mad royal, his devious daughters, rhyming ghosts and a castle full of hot intrigue—in a cheeky and ribald romp that both channels and chides the Bard and all Fate's bastards. It's 1288, and the king's fool, Pocket, and his dimwit apprentice, Drool, set out to clean up the mess Lear has made of his kingdom, his family and his fortune—only to discover the truth about their own heritage. There's more murder, mayhem, mistaken identities and scene changes than you can remember, but bestselling Moore (You Suck) turns things on their head with an edgy 21st-century perspective that makes the story line as sharp, surly and slick as a game of Grand Theft Auto. Moore confesses he borrows from at least a dozen of the Bard's plays for this buffet of tragedy, comedy and medieval porn action. It's a manic, masterly mix—winning, wild and something today's groundlings will applaud.
— Publishers Weekly (Starred Review)
"[W]all-to-wall, farcical fornicating and fighting…a jolly good time can be had."
— Booklist
"Less may be more, but it isn't Moore. Wretched excess doth have power to charm, and there are great reeking oodles of it strewn throughout these irreverent pages."
— Kirkus Reviews
"Funny, literate, smart and sexy, all at once!"
— Jeff Lindsay (Dexter)
"In transforming "King Lear" into a potty-mouthed jape, Moore is up to more than thumbing his nose at a masterpiece. His version of Shakespeare's Fool, who accompanies Lear on his slide from paternal arrogance to spiritual desolation in the original text, simultaneously honors and imaginatively enriches the character."
— San Francisco Chronicle
"It's hard to resist so gleeful a tale of murder, witchcraft, treason, maiming, and spanking. . . . Moore's deft ear for dialogue keeps the pages turning . . . Fool is a wickedly good time."
— Christian Science Monitor
"In truth, Fool is exuberantly, tirelessly, brazenly profane, vulgar, crude, sexist, blasphemous and obscene. Compared to Moore's novel, even Mel Brooks's hilariously tasteless film "Blazing Saddles" appears a model of stately 18th-century decorousness."
— Washington Post Book World (Michael Dirda)
"Often funny, sometimes hilarious, always inventive, this is a book for all, especially uptight English teachers, bardolaters and ministerial students of the kind who come to our doorstep on Saturday mornings."
— Dallas Morning News
"The very definition of a bawdy romp: a broad, elbow-in-the-ribs, wink-wink homage to King Lear (but with quantities of shagging that would have kept legions of Grade 12 students glued to their copies had the Bard only thought to include it). …[A] riotous adventure."
— Winnipeg Free Press
"Moore is a very clever boy when it comes to words. There are good chuckles to be had in this tale. …Whether you need to read the original King Lear before you read Moore's Fool is debatable. Seems a fool's errand to us. Just enjoy."
— USA Today
"A page-turner…. Your 'Lear' can be rusty or completely unread to appreciate this new perspective on the Shakespearean tragedy. That is if you enjoy a whole lot of silly behind the scenes of your tragedies."
— Valdosta Times (Georgia)
ISBN: 0060590319
Published by William Morrow
hardcover | 26.99