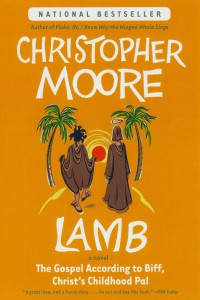 Buy the Book
Amazon.com | Barnes & Noble
Buy the Audio Book | IndieBound
The birth of Jesus has been well chronicled, as have his glorious teachings, acts, and divine sacrifice after his thirtieth birthday. But no one knows about the early life of the Son of God, the missing years — except Biff, the Messiahs best bud, who has been resurrected to tell the story in the divinely hilarious yet heartfelt work "reminiscent of Vonnegut and Douglas Adams" (Philadelphia Inquirer).
Verily, the story Biff has to tell is a miraculous one, filled with remarkable journeys, magic, healings, kung fu, corpse reanimations, demons, and hot babes. Even the considerable wiles and devotion of the Saviors pal may not be enough to divert Joshua from his tragic destiny. But theres no one who loves Josh more — except maybe "Maggie," Mary of Magdala — and Biff isnt about to let his extraordinary pal suffer and ascend without a fight.
Praise for Lamb
"An instant classic…terrific, funny and poignant.
— Rocky Mountain News
"Interesting, original."
— Kirkus Reviews
"Lamb is…a great idea, and a funny story. So, if you're a Christopher Moore fan, go out and buy this book."
— USA Today
"Although many will find something offensive in this novel, which pokes fun at every major religious tradition that existed in the first century, they will find it simply impossible not to laugh."
—Booklist
"Moore writes with a kind of reverent irreverence—he's got a keen eye for the absurd but leavens it with a child's sense of wonder … [Lamb is] his best book so far."
—Houston Chronicle
"Wrapped in this cloak of craziness are nuanced themes dealing with friendship, faith, and religious pluralism."
— San Diego Union-Tribune
"Christopher Moore's impish, madcap addition to the New Testament …LAMB is an earnest comedy in the style of Woody Allen's play God, simultaneously addressing matters of ultimate concern while wallowing in the broadest possible slapstick."
— Washington Post
"Like the best of comedies, LAMB is filled with tragedy, love, loss, beauty, anger, and, above all, an unfailing and intelligent sense of humour."
— Locus Online
"Anyone who can look past its irreverence will recognize LAMB as both highly entertaining and surprisingly thoughtful."
— San Francisco Chronicle
"A tale that falls somewhere between the New Testament, a book on Roman history, a guide to Eastern religion, and "Monty Python's Life of Brian."
— CNN Online
"Brings a refreshingly warped viewpoint to old turf . . . Moore has done extensive research into the period and the Bible, and it shows, mixing real and spurious references with diverting abandon."
— Locus
ISBN: 0380813815
Published by Perennial
paperback | $13.95US/$21.95CAN