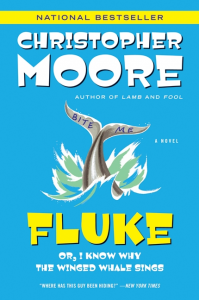 Buy the Book
Amazon.com | Barnes & Noble
IndieBound
Just why do humpback whales sing? Thats the question that has marine behavioral biologist Nate Quinn and his crew poking, charting, recording, and photographing very big, wet, gray marine mammals. Until the extraordinary day when a whale lifts its tail into the air to display a cryptic message spelled out in foot-high letters: Bite me.
Trouble is, Nate's beginning to wonder if he hasn't spent just a little too much time in the sun. Cause no one else on his team saw a thing — not his longtime partner, Clay Demodocus; not their saucy young research assistant; not even the spliff-puffing white-boy Rastaman Kona (né Preston Applebaum). But later, when a roll of film returns from the lab missing the crucial tail shot — and his research facility is trashed — Nate realizes something very fishy indeed is going on.
By turns witty, irreverent, fascinating, puzzling, and surprising, Fluke is Christopher Moore at his outrageous best.
Praise for Fluke
"[H]ilarious, educational, and original. . . . [I]t is difficult to put the book down, for there are astonishing new developments on every page."
— BookPage
"[I]f you ever wondered what happened to Amelia Earheart or all those folks lost in the Bermuda Triangle; if you ever wonder about the nature of God; if you wonder 'why the winged whale sings'; if you want to experience the greatest satirist since Jonathan Swift — you just have to read FLUKE."
— Denver Rocky Mountain News
"[In his] outrageous new novel … Moore is endlessly inventive … this cetacean picaresque is no fluke — it is a sure winner."
— Publishers Weekly (starred review)
"[O]ne of finest pieces of imagination since Anatole France's Penguin Island, or George Orwell's Animal Farm."
— Denver Post
"A great time for the reader. A great idea, and a funny story. . . . Go out and buy this book."
— USA Today
"An enchanting, audacious eco-fantasy . . . Jacques Cousteau by way of Douglas Adams, liberally spiced with dialogue that would make Elmore Leonard proud, and a whimsical sense of the absurd not seen since Tom Robbins's early heyday."
— Toronto Globe and Mail
"FLUKE is a lighthearted book that still manages to make some serious points about the human condition. . . . [Moore's] imagination is a gift to the reader."
— Baltimore Sun
"Moore's career has plainly been one of scaling new peaks; with the current book [Fluke] he might just have outdone himself . . . If the ghost of Jules Verne had conspired with Rudy Rucker and Tom Robbins to produce a novel, Fluke might very well make them hang their heads in defeat. . . .This novel is all ambergris, no blubber."
— Washington Post Book World
"Readers new to the work of Christopher Moore will want to know . . . where has this guy been hiding? (Answer: In plain sight, since he has a devoted cult following.) . . . [H]e writes laid-back fables straight out of Margaritaville, on the cusp of humor and science fiction."
— Janet Maslin, The New York Times
"Wonderfully strange and fall-down funny as always, Moore delivers, with moxie and wit, a satisfying collage of science, magic, comedy, fantasy and Save-the-Whale propaganda. . . . Tempered with Seussian logic, the pure and innocent wonder of a child's anything-is-possible imagination and the devilishly funny voice.
— San Diego Union-Tribune
"You're not likely to stumble across another book like [FLUKE] . . . and it contains more than its fair share of goofy fun . . . definitely the perfect book for a day at the beach."
— San Francisco Chronicle Book Review
ISBN: 006056668X
Published by Perennial
paperback | $13.95US/$19.95CAN