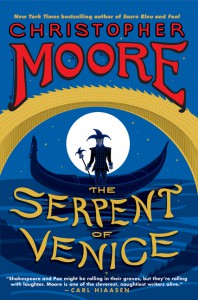 Buy the Book
Amazon.com | Barnes & Noble
IndieBound
Venice, a long time ago. Three prominent Venetians await their most loathsome and foul dinner guest, the erstwhile envoy from the Queen of Britain: the rascal-Fool Pocket.
This trio of cunning plotters—the merchant, Antonio; the senator, Montressor Brabantio; and the naval officer, Iago—have lured Pocket to a dark dungeon, promising an evening of sprits and debauchery with a rare Amontillado sherry and Brabantio's beautiful daughter, Portia.
But their invitation is, of course, bogus. The wine is drugged. The girl isn't even in the city limits. Desperate to rid themselves once and for all of the man who has consistently foiled their grand quest for power and wealth, they have lured him to his death. (How can such a small man, be such a huge obstacle?). But this Fool is no fool . . . and he's got more than a few tricks (and hand gestures) up his sleeve.
Greed, revenge, deception, lust, and a giant (but lovable) sea monster combine to create another hilarious and bawdy tale from modern comic genius, Christopher Moore.
Praise for The Serpent of Venice
"Shakespeare and Poe might be rolling in their graves, but they're rolling with laughter. Christopher Moore is one of the cleverest, naughtiest writers alive."
— Carl Hiaasen, New York Times bestselling author of a whole bunch of excellent books, including Bad Monkey, Nature Girl, and Sick Puppy
"Fans who enjoyed the rollicking play within a play of Fool or the historical whimsy of Sacré Bleu will find many of the same gifts here . . . from one of America's most original humorists."
— Kirkus Reviews
"Fans of Fool will be overjoyed to rejoin Pocket and company . . . for their latest adventure, and newcomers will find that Shakespeare isn't nearly as dry and dusty as they thought, at least not when Moore is at the helm."
— Library Journal (starred review)
"Moore's imaginative storytelling, bawdy prose, puns aplenty . . . succeed in transforming two classical tragedies into outrageously farcical entertainment."
— Publishers Weekly
"Moore's greatest asset is his skill with language. Readers with a certain Monty Python nerdiness will rejoice in its hundreds of insults . . . and jokes. . . . [W]itty and wise . . . Serpent is a bright, quick novel." (3 out of 4 stars)
— USA Today
ISBN: 9780061779763

Published by William Morrow

hardcover | $26.99

paperback | $15.99