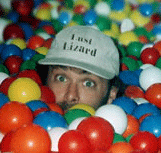 Christopher Moore is the author of eighteen novels, including the international bestsellers, Lamb, A Dirty Job and You Suck. His lastest novel, Razzmatazz, was published May of 2022. He's currently working on a historical set in early 1900s Vienna.
Chris was born in Toledo, Ohio and grew up in Mansfield, Ohio. His father was a highway patrolman and his mother sold major appliances at a department store. He attended Ohio State University and Brooks Institute of Photography in Santa Barbara. He moved to California when he was 19 years old and lived on the Central Coast until 2003, when he moved to Hawaii.
Before publishing his first novel, Practical Demonkeeping in 1992, he worked as a roofer, a grocery clerk, a hotel night auditor, and insurance broker, a waiter, a photographer, and a rock and roll DJ. Chris has drawn on all of these work experiences to create the characters in his books. When he's not writing, Chris enjoys ocean kayaking, scuba diving, photography, and painting with acrylics and oils. He lives in San Francisco.
Praise for Christopher Moore:
"Where has this guy been hiding?"
— The New York Times
"A very sick man, in the very best sense of the word."
— Carl Hiaasen
"Habit-forming zaniness."
— USA Today
"The greatest satirist since Jonathan Swift"
— Denver Rocky Mountain News
"Christopher Moore writes novels that are not only hilarious, but fun to read as well. He is an author at the top of his craft."
— Nicholas Sparks
"All [his] books exhibit the same marvelous virtues. Engaging, deftly limned protagonists whose human failings are always offset by surprising moral depths, heroes and villains alike. Zippy, jet-propelled plots whose parts are intricately connected and whose endings offer genuine surprises. Bright, clean, witty dialogue. Juicy descriptions, similes and metaphors in the hyperbolic mode. Vivid physical settings and cultural milieus, meticulously reported from first-hand experience….And – finally but essentially – ingenious fantasy elements that are integral with the other components of the books, engines of action, not just add-ons."
— Washington Post Book World
"The thinking man's Dave Barry or the impatient man's Tom Robbins, Moore takes cheap laughs where he can get them . . . over the last decade, he's learned how to merge them into speculative romps that skip merrily in and out of the realm of possibility."
— The Onion
"Christopher Moore is rapidly becoming the cult author of today, filling a post last held by Kurt Vonnegut."
— Denver Post
"Christopher Moore deserves acclaim on the Dave Barry/Christopher Buckley level, or even beyond that, for he's better than either of them."
— Fort Worth Star-Telegram
"Moore excels at putting a comic spin on cosmic issues."
— San Francisco Chronicle
"Moore is one of those rare writes who is laugh-out-loud funny."
— Santa Barbara Independent
"Moore's comedic style is refreshingly relaxed and good-natured; when it comes time for him to deliver a satirical barb, he does so with reliable accuracy."
— San Francisco Examiner & Chronicle
"Moore's storytelling style is reminiscent of Vonnegut and Douglas Adams."
— Philadelphia Inquirer