Video
WatchMojo: 5 min interview on Bite Me
Check out video of Chris on the You Suck tour in Ann Arbor, Michigan!
Chris Moore BookWrap video interview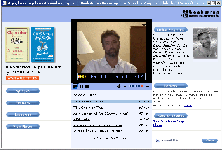 Chris sat down with us recently to talk about The Stupidest Angel, Fluke, and other Author-guy subjects. Click on the link above to launch this video interview — its called a BookWrap and contains text about the books along with the video. Enjoy!
View outtakes not included in the final BookWrap:
(These video clips are in the Real Media format, if you don't have the Real Media player, you can download it for free from http://www.real.com)
Audio
Bite Me: Talk of the Nation (NPR) 4/7/2010
Fool Live with the Shakespeare Theater of New Jersey 11/19/2009
Fool: Talk of the Nation (NPR) 3/12/2009
Fool: Live on KGNU Community Radio (Denver) 2/19/2009
Listen to a message from Chris to his fans on the publication of A Dirty Job
Stupidest Angel: Talk of the Nation (NPR) 12/23/2004