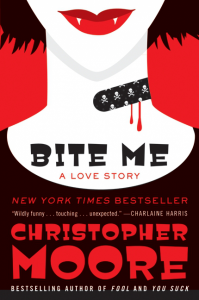 Buy the Book
Amazon.com | Barnes & Noble
IndieBound
Now on Sale!
Abigail Von Normal, nonperky, mysterious teen queen of the San Francisco night scene and backup mistress of Tommy, the unintentional Vampire is back to lead you through the 3rd book in the San Francisco Vampire trilogy. Learn what happens to Tommy, Jody, the Vampire Flood, Chet the Enormous Cat, The Smurfette, the Animals, and all your other favorites!
The city of San Francisco is being stalked by a huge shaved vampyre cat named Chet, and only I, Abby Normal, emergency backup mistress of the Greater Bay Area night, and my manga-haired love monkey, Foo Dog, stand between the ravenous monster and a bloody massacre of the general public.
Whoa. And this is a love story? Yup. 'Cept there's no whining. See, while some lovers were born to run, Jody and Tommy were born to bite. Well, reborn, that is, now that they're vampires. Good thing theirs is an undying love, since their Goth Girl Friday, Abby Normal, imprisoned them in a bronze statue.
Abby wants to be a bloodsucking fiend, too, but right now she's really busy with other stuff, like breaking in a pair of red vinyl thigh-high Skankenstein® platform boots and wrangling her Ph.D.-candidate boyfriend, Steve (the love monkey). And then there's that vampire cat Chet, who's getting bigger and smarter—and thirstier—by the minute. Abby thought she and Steve could handle the kitty cat on their own, mais non . . .
Before you can say "OMG! WTF?" Tommy and Jody are sprung from captivity, and join forces with Abby, Steve, the frozen-turkey-bowling Safeway crew, the Emperor of San Francisco and his trusty dogs Lazarus and Bummer, Abby's gay Goth friend Jared, and SF's finest Cavuto and Rivera to hunt big cat and save the city. And that's when the fun really begins.
Read chapters 1+2 on the Christopher Moore Blog now!
Early Reviews:
"Moore's most hysterical 'love story' to date."

—Booklist
The third installment in Christopher Moore's comedic vampire series, Bite Me: A Love Story, is without a doubt the funniest book I have read in ages.
— Lisa Damian, blogcritics.org (Damian Daily blog)
Vampires are all the rage right now among the teenage girl set with them swooning over handsome, pale-skinned heartthrobs and dreaming of eternal love. Bite Me provides a nice antidote to the sickeningly sweet world of paranormal romance that's being peddled by the trash merchants these days. Even if slightly over the top at times, Moore is a refreshing dose of the absurd in a world which has started to take itself and fantasy far too seriously.
— Richard Marcus, blogcritics.org (Leap in the Dark blog)
The characters are as wacky as characters can get, but they have surprisingly true centers, as does the story itself. It's not just caper for the sake of caper, but a beautifully and logically pieced together plot, intricate and zippy and smart.
— Joanna Rose, Oregon Live
Abby, alone is worth the price of the book.
— Mark Graham, on Tor.com
Moore's prose in these and other passages throughout "Bite Me" is hyperactive and inventive. His sentences don't just sit there on the page, waiting politely to be read. Instead, they get right up in your face and bark at you.
— Stephen M. Deusner, Express Night Out
ISBN-13: 9780061779725
Large Print: 9780061945762
E-book: 9780062001610
Published by William Morrow
hardcover | 23.99